Remembering Bob Russell |

J
une 18, 2022
Robert H. Russell, Jr. — WLCT Trustee Emeritus
When Bob Russell passed away on June 18, 2022, Wilton lost an esteemed and revered citizen. Bob served for decades in key fiduciary and leadership roles for the Wilton Land Conservation Trust, as well as for the Wilton Library and the Wilton Historical Society. He also served in Town government, on the Board of Finance and as First Selectman, from 1993 to 1999.
Central to Bob's devotion to the Wilton community was his love of the town's rural and agrarian history and character. It was in the late 1990s, as First Selectman, that Bob led the way, on the Town's behalf, for the preservation of more open space in Wilton than has ever been achieved before or since. Against the 1990s backdrop of increasing concern that commercial and residential development were eroding the Town's rural character and heritage, Bob convened a Land Advisory Committee of concerned citizens.

Robert Russel
l
Wilton Historian
Robert Russel WLCT Trustee Emeritus,
standing with David McCarthy, WLCT's Executive Director, outside of WLCT's Offutt Barn at Chestnut Meadows.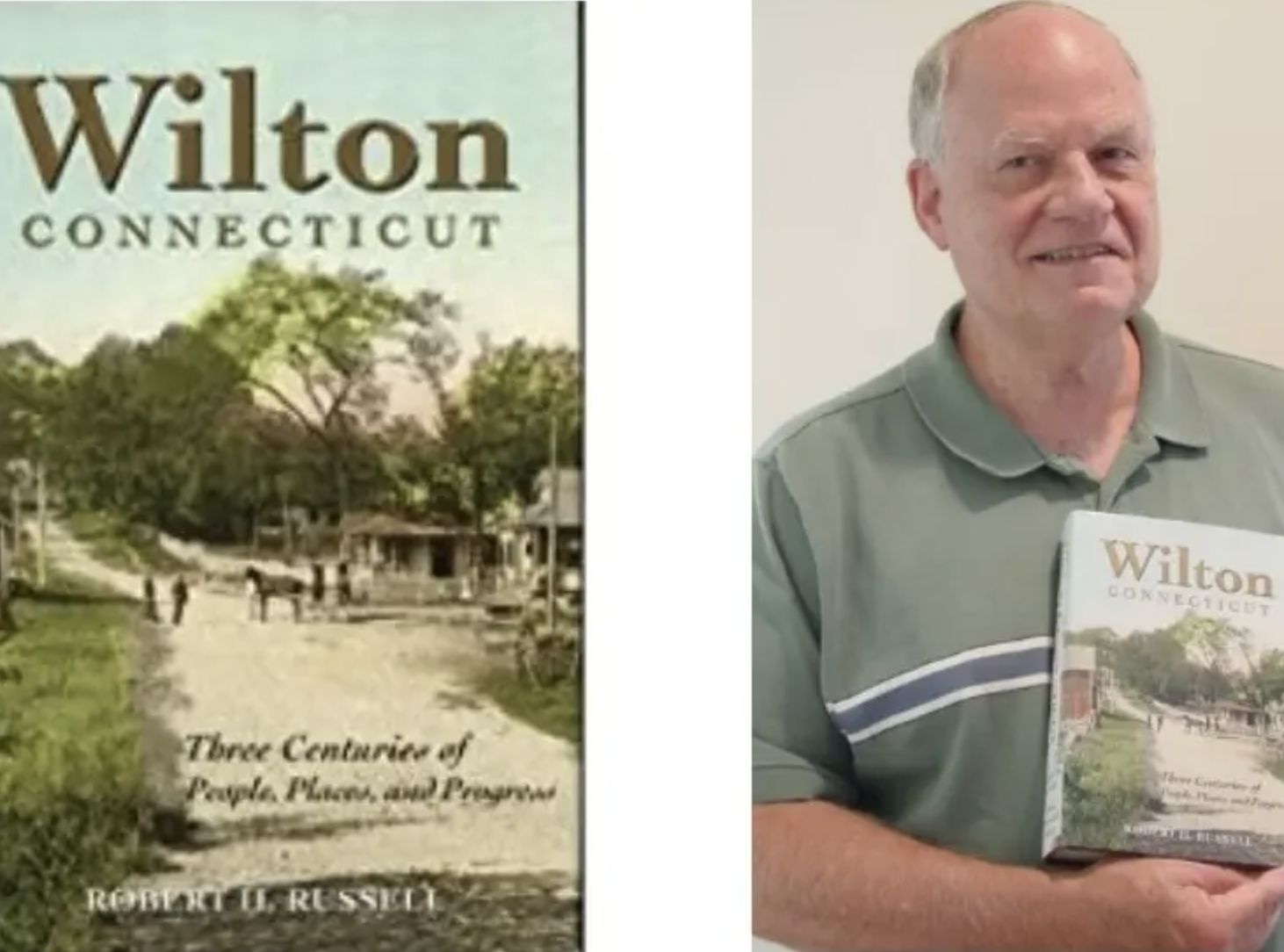 He worked with this Committee, his fellow Selectmen, Town Counsel, The Nature Conservancy, and through the process of publication, financing and Town Meeting approvals. The result was a Town investment of more than $7,000,000 to acquire outright, or protect by Conservation Easement, the beautiful properties owned by the Sackett and Black and Belknap families, acreage adjacent to the Wilton Railroad Station (now site of the Teen Center), the Ambler Farm, and Millstone Farm.
Long after his retirement as first Selectman in 1999, Bob served as a Trustee of WLCT and continued his efforts to preserve and protect our open spaces. He and Carol gave so generously of their time and talent and treasure to WLCT. Bob's gifts and legacy will never be forgotten.
The Wilton Land Conservation Trust is a private, non-profit organization dedicated to the preservation of open space in Wilton. Formed in 1964 by Wilton residents Morris Earle, Augustus W. Merlin, Lawrason Riggs III, and George W.D. Symonds, these founders anticipated the adverse impact of population increase and housing development on the natural resources and wildlife habitats in the Town.
Over the years, the WLCT has been lucky to have many passionate and generous members and volunteers working to advance its mission. Robert was a WLCT Trustee who had an extraordinary impact on the WLCT and an exceptional hand in advancing its mission.