Visiting the CT College Arboretum
A WLCT Intern Retreat

~By Julia Elmasry


August 29, 2021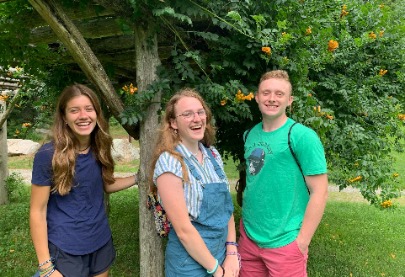 July 19, 2021
By Julia Elmasry | 2021 WLCT Spring Intern
On July 19th, 2021, David McCarthy, Eli Grass, Sara Schneidman, along with myself, Julia Elmasry, attended the Connecticut College Arboretum. We each packed a bagged lunch and were ready to discover all sorts of plant species. Although it was an overcast day, it came to our advantage when we learned that we were the only ones in the whole place! It was hard not to notice the well-manicured lawns, pruned trees, the plethora of wildlife, and the beautiful landscapes as we walked around. Most, if not all plants were thriving, and everything was native. There were many birds, which is a good sign because they mean the forest is healthy.

With the help of Mr. McCarthy, we toured around the premises, he pointed out the essential plants that we should take note of. I learned about two types of oak trees, black and white oaks. One way to properly identify them is by the structure of their leaves. Black oak trees have more pointy structured leaves, whereas white oak has a curvier, less defined leaf structure. Additionally, I learned that many native flowers point down towards the ground, which is interesting, and another great way to identify which flowers are native versus those that are invasive.
Another fascinating concept I learned about was crossing certain plant species. There is a specific part of the Arboretum at the college that is home to many hybrid plants. One we came across was a Weeping Hemlock. This tree was not only funky looking but very dense and green. This tree can grow, on average, 10 to 15 feet tall and 15 to 20 feet wide! It's a great plant to have over a rock wall or vacant area, that is if you can get your hands on it, considering it is expensive and rare to find in many landscaping stores.
As you can see, there are many things to discover and learn from hands-on experiences like this one. Without actually taking the time to stop, observe, and learn, I never would have gained this excellent knowledge. I was delighted to have attended this trip with the crew. I hope to do more outings like this in the future!