Comstock Hill Cemetery • Stewardship Workday
Occurred on Sunday - June 27, 2021, 1:30 PM
Wilton Land Conservation Trust

Partnership with the



Drum Hill DAR

Comstock Hill Cemetery - Stewardship Workday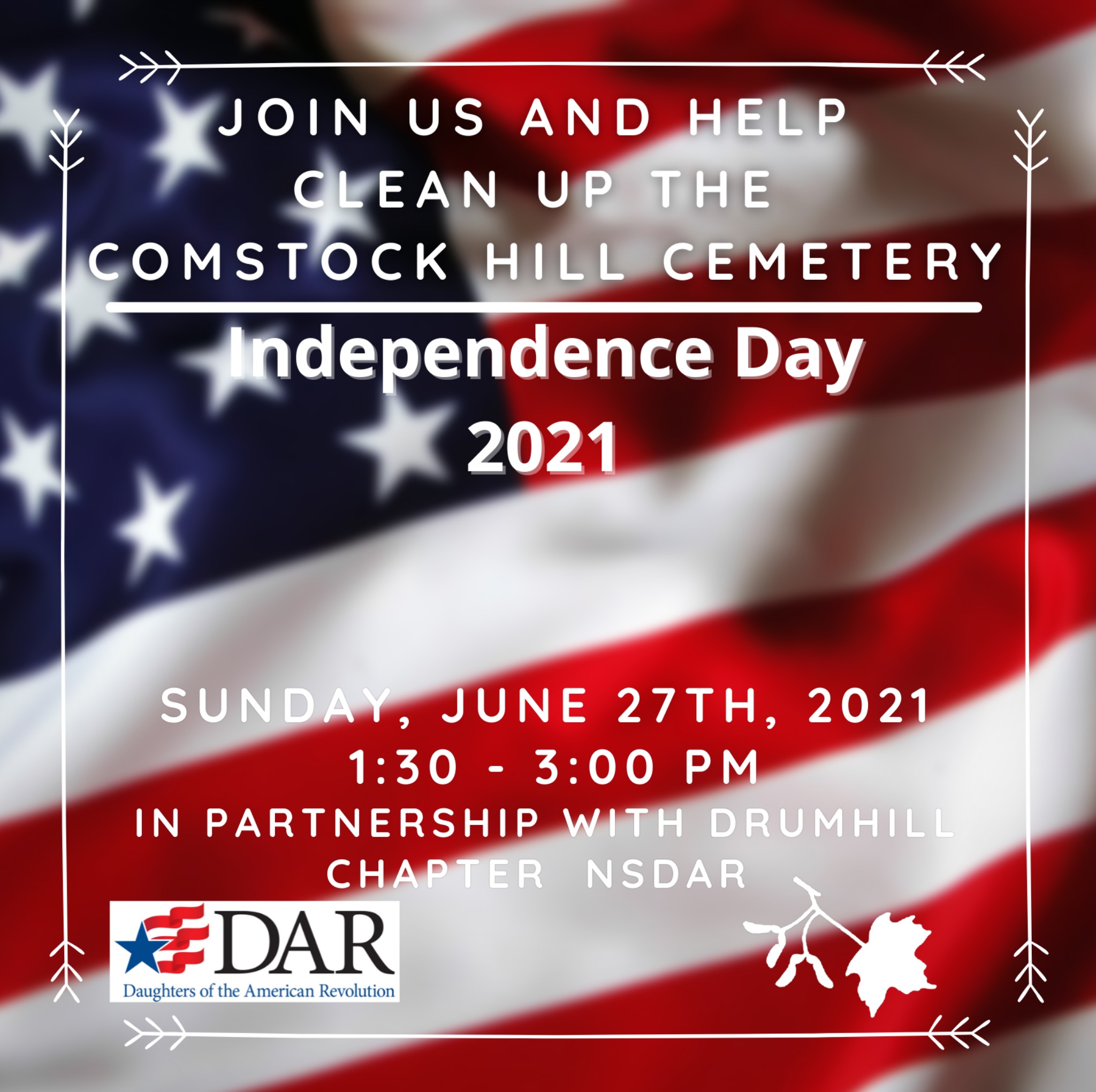 ---
Comstock Hill Cemetery - Stewardship Workday
Join us, June 27, 2021, at 1:30 p.m.
In honor of Independence Day 2021 and the 246th anniversary of the American Revolutionary War, the Wilton Land Conservation Trust, in partnership with the Drum Hill Chapter NSDAR, invites the community to celebrate our Nation's Independence by stewarding the Comstock Hill Cemetery. The community workday will improve the trail and final resting grounds for seven Revolutionary War Patriots.
This workday will focus on the trail that winds through the cemetery, general brush maintenance, and the hand-pulling of invasive species. Volunteers will dig, rake, and cut to improve the trails and clear overhanging vegetation.
WHERE & WHEN:
Volunteers will meet at 1:30 p.m. (rain or shine) at the Signal Hill Road trail entrance: work should wrap up at about 3:00 - 3:30 p.m. Wilton Land Conservation Trust staff will be onsite to provide instruction and ensure everyone stays safe.
It's recommended that volunteers should wear long pants, a long-sleeved shirt, sturdy boots, and gloves. In addition, bring water, snacks, lunch, and work gloves. WLCT Staff will provide tools, but participants are always welcome to bring their tools: loppers, hand saws, rakes, hand trowels, etc.
PARKING:
Volunteers are invited to park along the roadside of Signal Hill Road. While we don't have an address for the cemetery, we recommend parking roadside near 231 SIGNAL HILL RD. Please be mindful of our neighbor's lawns and driveways. Parking on Ridgefield Road can be dangerous and is not recommended.
LEARN MORE:
Volunteering on a WLCT preserve is a rewarding way to give back to your community, learn about conservation, and improve public open spaces. For information on additional volunteer opportunities, learn how to get involved by clicking here.